Portfolio Samples: new media, presentations & graphic design
Shown here are websites, CD-ROMs, DVDs and graphic design produced for, among others, the University of Cambridge, The Foreign & Commonwealth Office, and Marie Stopes. Graphic design clients include Intercall, London League Publications, the Third Age Project, and Barclays Home Finance. Other clients include schoolfriend.co.uk, susanmumford.co.uk, and thecountryshopper.co.uk.

Websites
TVP Lab
is a scientific website, built for University of Cambridge Principal Investigator Professor Toni Vidal-Puig. The site uses WordPress as a CMS, with custom in-site search, automatic publications updates from PubMed, and a bespoke application for importing Excel tables.
To comply with university regulations there are no PixelTiger credits on the site – please contact us for documentary proof.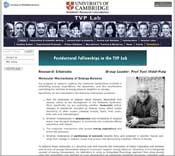 A website for painter
Liz Sutherland
, showing the full range of her work.

A website for
Giles Leaman
, who runs music, art, and instrument making workshops for schools.